Xiaomi Yi Action Camera - International Travel Edition Black - Camera, Bluetooth Shutter, Monopod Original - Garansi Resmi 1 tahun

ISI DALAM BOX TRAVEL EDITION:
1x Xiaomi Yi International Black
1x Yi Monopod Original
1x Remote Bluetooth Shutter
1x USB Cable
1x Battery 990mAh
1x Manual Instruction
1x Kartu Garansi Resmi Yi 1 tahun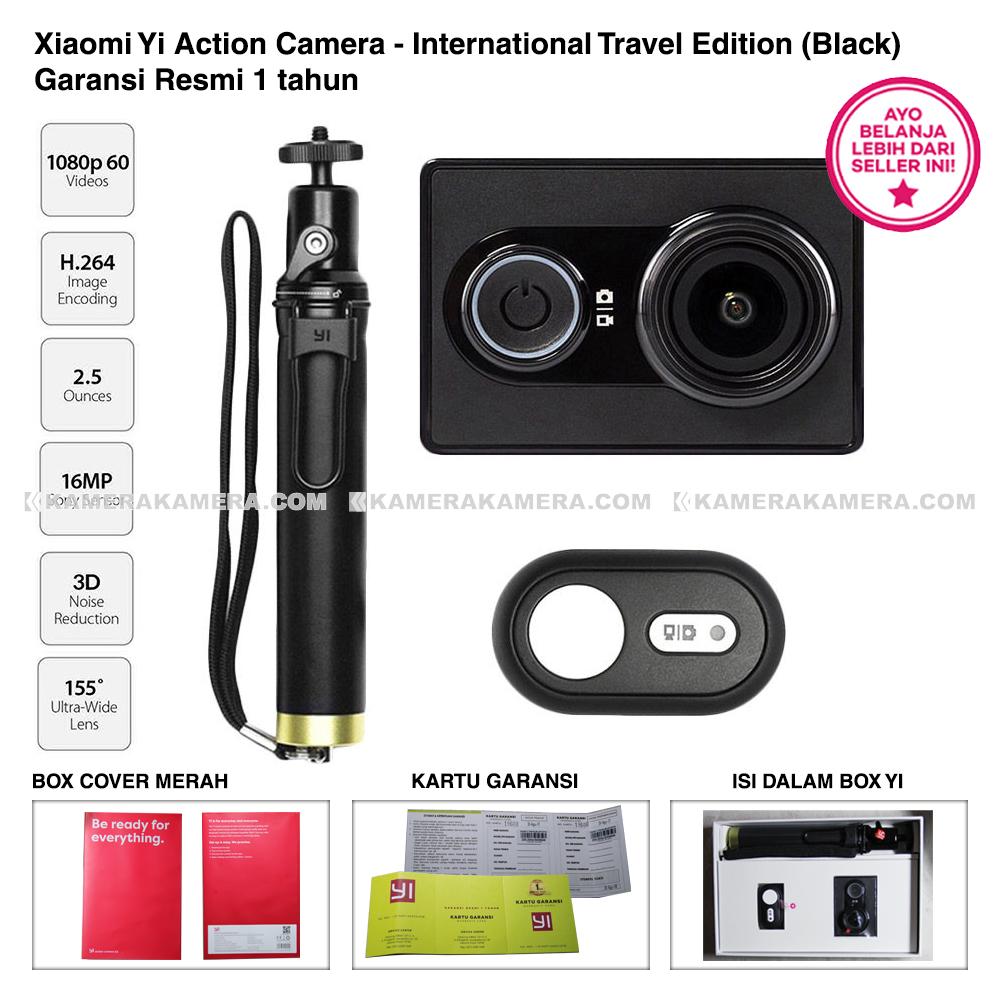 YI Action Camera – International Version [ True Black ]
Battery - International Version features a 990 mAh Sony battery.
The backdoor of the battery housing is covered with an aluminum/metal sheet.
The notch on the bottom of the camera is gone with the international version of the YI action camera.
The international version is available in "true black"
YI Action Camera Specs
The specs of the camera remain unchanged:
Chip & Sensor:
The International Version will feature the same 16 MP Sony Exmor Sensor (IMX206)
and also the Ambarella A7 chipset.
Video Resolution & Frame Rate:
2K (1296p) – max. 30 fps
1080p – max. 60 fps
720p – max. 120 fps
480p – max. 240 fps
Lens:
Aspheric surface FHD photology glass lens, F2.8 DFOV 1550
Focal length:
2.73 +-5%мм; 155° wide angle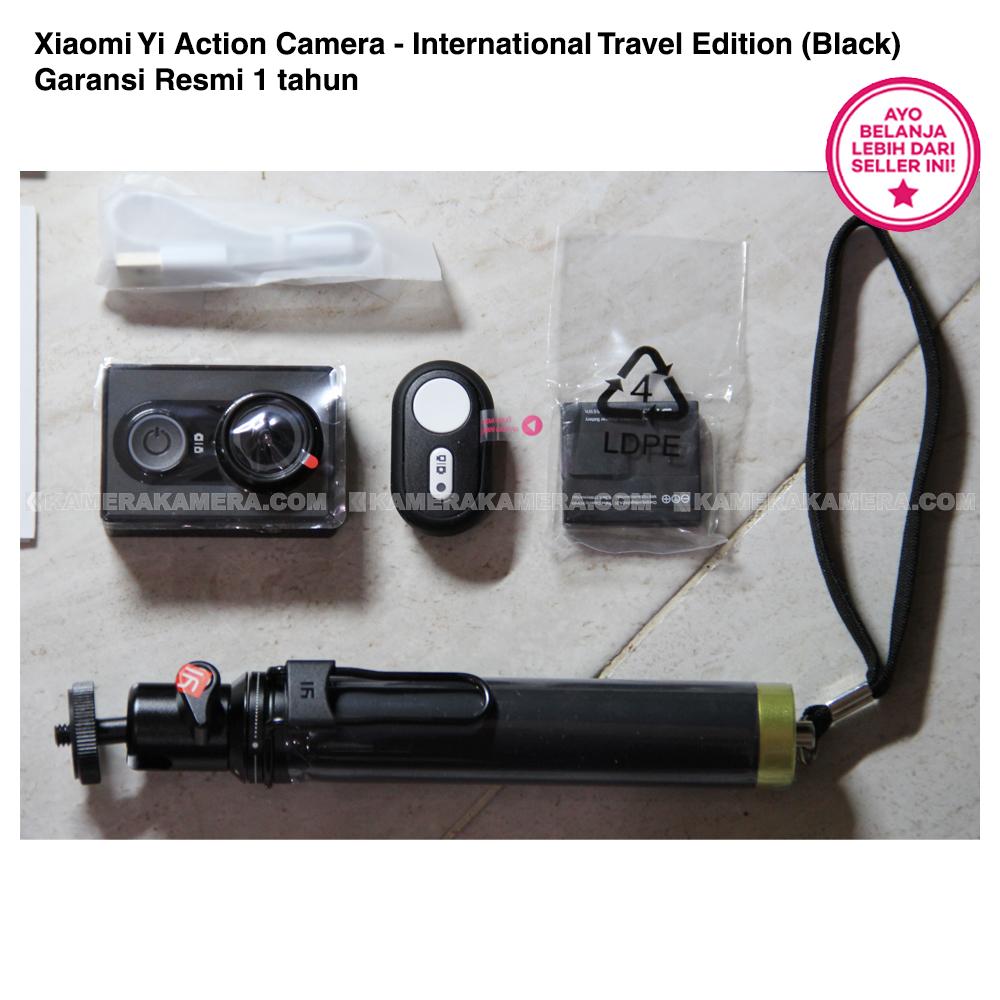 Recording Format:
Format: .mp4; Codec: .h264;
30fps recording is 29.97fps (same as GoPro)
Currently the bit rate is 25MB/s, but there is an unofficial firmware pushing the camera to 30MB/s
Audio recording:
dual track, 96KHz sampling
Display:
The Xiaomi Yi doesn't have a LCD display. Although there is a 3rd party accessory LCD which is made for Xiaomi Yi.
Battery:
A detachable 990 mAh Sony battery is used (compared to 1010 mAh in the Chinese Version)
Storage:
Yi camera supports up to 128GB microSD cards (min. 16GB), class 10 recommended.
A microSD card is not included in both versions!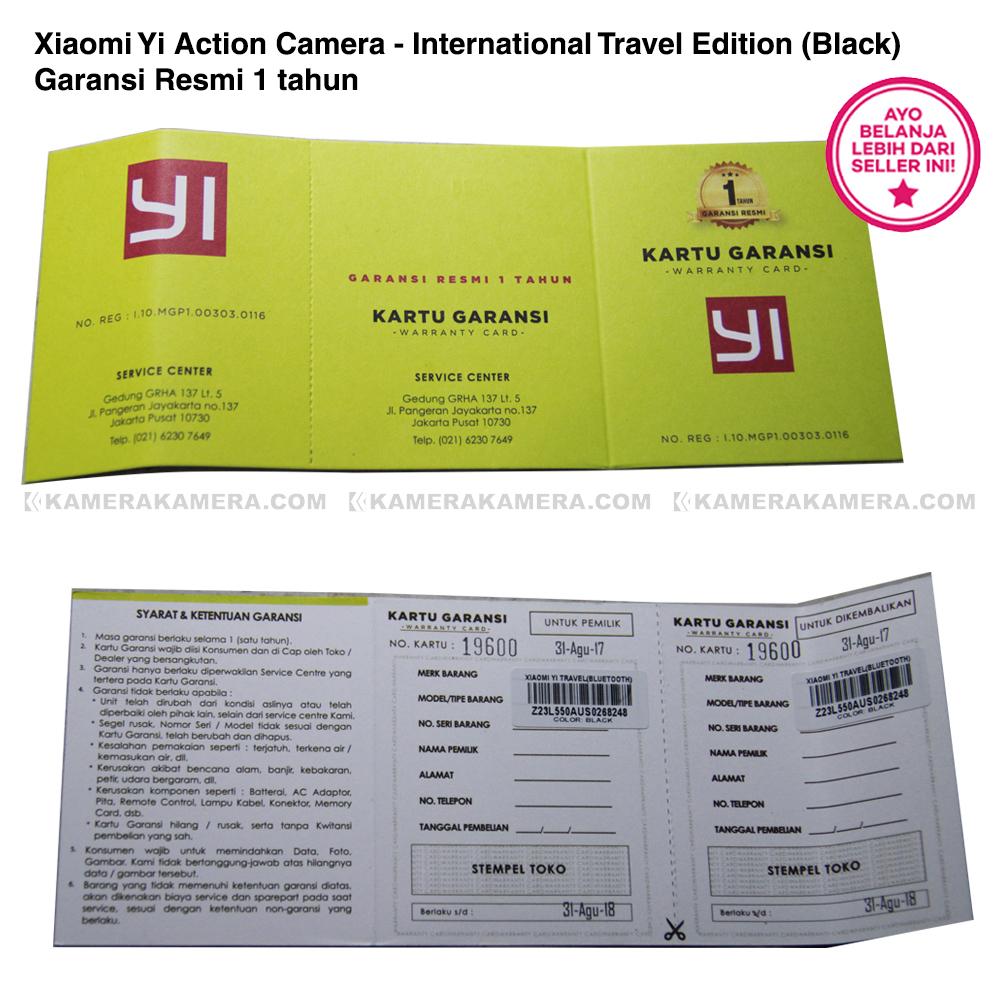 Connectivity & Ports:
built in Wifi and Bluetooth 4.0:
- wifi connects to Xiaomi iOS or Android App
- Bluetooth to Xiaomi remote control
microUSB for:
- charging
- A/V output
- mic-in is not supported
microHDMI port for HD video output.

[ Garansi Resmi Xiaomi Yi Indonesia 1 tahun ]